An NGO for NGOs

Networking and Support Centers for NGOs
Hari Srinivas
Case Study Series E-105. April 2015.
[Authors note: In this document, the term 'NGO' - non-governmental organization - is used in a generic sense, and includes its variations such as NPO - non-profit organization - that is in use in Japan and elsewhere]

on-governmental organizations, in various forms and definitions, have been filling the gaps in service delivery of governments, particularly in developing countries. Targeting basic needs of low-income households, NGOs have implemented programmes on a wide variety of themes, including housing, education, health, and skill development.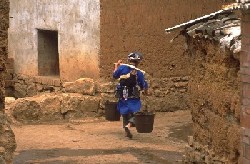 But the NGO sector has been growing exponentially over the last few decades. This is evident in the increase in number of NGOs, in organizational size, in level of functioning, in themes, in target types etc. As a result of this expansion, focus has shifted to the shortcomings and problems faced by NGOs themselves, and to find ways and means to overcome them.
As more and more groups of people decide to set up NGOs, they have begun to face a twin dilemma - these are (a) building capacity and skills internally, and (b) ensuring and enabling trust and accountability externally.
Recognizing these dilemma, and of the importance of NGOs themselves, donor agencies and governments have begun to set up networking and support centers in order to assist NGOs overcome their shortcomings and provide better services to the communities they work in. Such centers are being set up in both OECD and developing countries to assist NGOs working in the respective countries.
The observations presented here are based on examples from such centers set up in Japan for Japanese NGOs. A number of these centers, set up in the prefectures of Hyogo, Osaka, Tokyo, Kyushu and other prefectures were surveyed to distill the key points presented below. The lessons learnt have implications for other countries as well, particularly for NGOs in developing countries.
Internationally, bilateral, international and UN agencies have also assisted NGOs better understand how they work, and how NGOs can assist them in their programmes. Such 'NGO liaison offices' help NGOs to network with each other, play a more significant role in global affairs, and at global levels.
Why Networking?
Why have such centers focused on the need for NGO networking? It is essentially to provide NGOs with a variety of up-to-date and pertinent information. Networking activities support the NGO's own activities, and facilitates linkages with other organizations in other sectors, including government agencies.
Networking also assists NGOs in administrative, financial and legal problems that they may have. Ultimately, networking enable NGOs to develop more effective and innovative programmes and projects
What are the shortcomings addressed by the Centers?
Networking resources and opportunities address key shortcomings in NGOs. For example, some NGOs do not know the procedures to carry out activities on a particular theme or in a particular country. Many are not aware what other NGOs and aid agencies are doing in the same field or country. Despite a keen willing to work and having the resources to do so, some NGOs are simply not aware of the key areas of priority for action that they need to focus on, and need assistance in this matter. NGOs also need opportunities for networking and cooperative activities with other NGOs, which are lacking at present.
How does a NGO Support Center help?
In order to address the needs and shortcomings mentioned above, NGO networking and support centers undertake a number of actions to support NGO activities. These include:
Providing information on a wide variety of issues and topics
Assisting in project formulation and implementation
Helping in organization of seminars and workshops
Organizing exhibitions and fairs
Facilitating idea exchange
Arranging meetings with other stakeholders/partners
Sharing resource persons
Building capacity through training
Publishing reports, newsletters and websites.
EEtc.
Who sets up NGO Networking and Support Centers?
While most of the NGO networking and support centers have been set up by local and sub-national governments, quite a few have been set up by NGOs themselves for boarder purposes such as building credibility and trust with the civil society.
There is also an increasing trend of NGOs being set up for the express purpose of helping other NGOs to be set up and carry out their work. These include, for example, NGOs that help other NGOs to:
register and set themselves up
understand accounting and tax laws
streamline operational and project management
assist in fund raising
Eetc.
Conclusions
The setting up of networking and support centers for NGOs as a public service have first and foremost highlighted and acknowledged the importance of NGOs in societal development. They have also NGOs (a) internally, to be more efficient and effective in their programmes and projects, and (b) externally, to benefit from better access to various resources and collective sharing of programme outcomes.
By providing services to NGOs collectively, such centers have also helped save costs for NGOs (for example, in providing meeting spaces for seminars/conferences) and increased the publicity they have received for their projects (for example, by including NGO project info in the center's newsletters or websites).
---


Return to the NGO Page
---
Comments and suggestions:
Hari Srinivas - hsrinivas@gdrc.org