The 'Back to the Drawing Board" Toolbox looks at buildings in its entire life-cycle, and provides tools and strategies that can be used to incorporate sustainability principles in building and construction.
The processes involved in a building's lifespan - design, construction, use, maintenance and demolition - have immense implications on its impact on the environment - in terms of natural resources and energy consumed.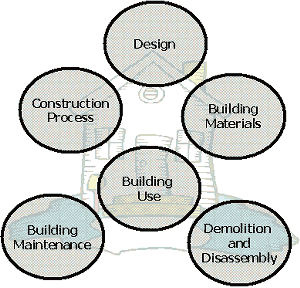 Building and construction processes can be subject to the principles of sustainability. What would this mean to the different stakeholders? What are the key elements of a sustainable building and and its construction process? What policies and programmes are needed to ensure the success of such elements? Who needs to be involved - up and down the supply chain?