Urban EMS in Japan
The ISO 14001 Initiatives of Public Authorities in Japan


Hari Srinivas
Case Study Series E-166. September 2022
Abstract
ISO 14001 defines a voluntary environmental management system (EMS). Used in conjunction with appropriate goals, and with management commitment, the standards help improve environmental performance and reduce negative impacts. They provide an objective basis for verifying claims about a local government's environmental performance in its day-to-day operations.

Consumers, governments and companies up and down the supply and production chain are all seeking ways to reduce their environmental impact and increase their long-run sustainability. For local governments, the key goals are to be environmentally efficient, and serve as a model for resource-saving and replication.

This paper explores the intersection of city governments, EMS and the ISO 14001 series. It outlines the justification for cities to implement an EMS for their day-to-day operations, and seek ISO 14001 certification. It also provides case studies of Japanese cities and prefectures (Shirai city, Itabashi ward of Tokyo, the Tokyo Metropolitan Government, and Gifu Prefecture) that have attempted ISO certification.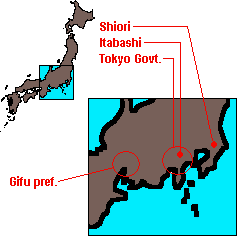 I

SO 14001 defines a voluntary environmental management system (EMS). Used in conjunction with appropriate goals, and with management commitment, the standards help improve environmental performance and reduce negative impacts. They provide an objective basis for verifying claims about a local government's environmental performance in its day-to-day operations.

Consumers, governments and companies up and down the supply and production chain are all seeking ways to reduce their environmental impact and increase their long-run sustainability. For local governments, the key goals are to be environmentally efficient, and serve as a model for resource-saving and replication.

This section explores the intersection of city governments, EMS and the ISO 14001 series. It outlines the justification for cities to implement an EMS for their day-to-day operations, and seek ISO 14001 certification. It provides case studies of four Japanese cities and prefectures (Shirai city, Itabashi ward of Tokyo, the Tokyo Metropolitan Government, and Gifu Prefecture) that have attempted, or are int he process of obtaining, ISO certification.

With the promulgation of the Sustainable Development Goals (SDGs) by the world community in 2016, efforts at the global and local levels have a clearer picture of what neds to be done. Of particular relevance to urban areas is SDG #11, which calls for making cities inclusive, safe, resilient and sustainable.

The policy priority for urban environmental management systems is becoming all the more critical. As the above four case studies illustrate, a city-wide EMS has several advantages in taking an integrated and holistic approach to urban environmental management. At the same time, it also inspires other entities within the city, such as private sector and civil society entities, to undertake development and implementation of EMSs within their premises.

The ISO 1400 series of standards have also gained prominence recently due to the implementation of another ISO standard - 37106. This standard on Sustainable cities and communities provides guidance on establishing smart city operating models for sustainable communities.

Ultimately, with or without an ISO certification - urban environments need to be properly managed. The problems are familiar - Wastes need to be recycled and reused, Water used efficiently, energy shifted towards renewables. But, as the four examples from Japan shows, ISO 14001 provides an added incentive, a systematic guidance for cities to manage their environments.

An earlier version of this publication was written by the author and Makiko Yashiro, "Cities, Environmental Management Systems and ISO 14001: A View from Japan" Tokyo: United Nations University