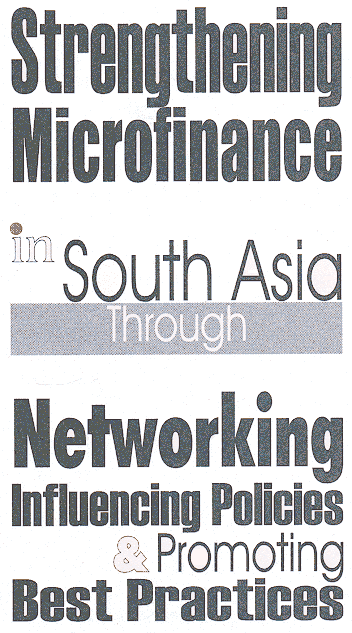 SANMFI: South Asian Network of Microfinance Initiatives



SANMFI: in a few words

SANMFI is the only microfinance Network exclusively focused on South Asia and dedicated to linking, strengthening and promoting microfinance institutions in the region through influencing policies and promoting best practices.

Sowing the seed

The inspiration for the creation of SANMFI came from a core group of 31 South Asian microfinance organisations attending the Bank Poor 96 workshop in Kuala Lumpur. The South Asia Caucus endorsed a proposal of a working committee to establish a co-operative mechanism through which learning can be institutionalised in each of the South Asian countries and across the region.

Four plain facts ...

South Asia is home to
of the world's poor families.
of the world's current microfinance clients.
The most successful microfinance institutions.
The greatest number of growing microfinance programmes.
... and one intriguing conclusion
South Asia has the critical mass of resources - the institutions, the people and the knowledge - to potentially enable all poor families in the region to access reliable and useful microfinancial services.
Capturing the 'big picture'
The 'big picture' is this: the only way all poor people in South Asia can access reliable microfinancial services, fast, is to flexibly bring together the region's critical mass of resources - the institutions, the talent and the knowledge - to influence policies and to support the promotion of best practices, together.
SANMFI's Commitment
SANMFI is committed to actively working to create an environment and a mechanism through which institutions, people and knowledge can be linked - country by country and across the region. By doing this SANMFI is to able match felt needs with appropriate resources and support.
SANMFI's distinctiveness
Focused: SANMFI is the only regional microfinance network in South Asia.
Regionally owned: SANMFI is committed to making its governing board fully representative of the region, ensuring that it remains relevant to the needs of each South Asian country.
Strategically located: SANMFI is based in Bangladesh, giving it direct access to some of the dominant microfinance players and schemes in the world.
Neutrally networked: SANMFI only works through neutral national/sub-national networks in each South Asian country, allowing it to maximise leverage in reaching large numbers of microfinance organisations.
Services and products on offer
Information and knowledge brokerage: SANMFI offers a one-stop fast and convenient way for practitioners, researchers and policy-makers to source information on microfinance through:

SANMFI's growing resource centre currently containing over 300 published & unpublished material on microfinance.
Specialised database-containing bibliographies of resources available with other organizations.

Bibliographies are available as hard copies and on the SANMFI Internet homepage.

Consultancies: SANMFI provides donors and microfinance practitioners access to high quality and practical consultancies from some of the most talented and qualified individuals and institutions in South Asia through SANMFI's:

Roster of technical experts, including people in SANMFI.
Quality guarantee.

Areas of expertise are programme design and training, project formulation, evaluation and reviews, systems development, and impact monitoring.

By June 1998, SANMFI's own people will have provided consultancy services in Bangladesh, Nepal, Pakistan, Mongolia and Croatia.

Research, policy analysis and influencing: SANMFI conducts research and analyses policies that constrain the viable increase in the outreach of microfinance in South Asia.
SANMFI's core research agenda (1998-2000):

Analysis of financial markets in South Asia with the objective of promoting linkages between commercial finance & microfinance.

Analysis of the microfinance policy and regulatory environment in South Asian countries with the objective of contributing to an annual publication of a South Asian Microfinance Development Report (MDR).

Country studies on financial innovations to reach the hard-core poor.

Study on best practices in the provision of non-credit based financial services, including savings, insurance, mortgage, leasing, and consumer finance.

SANMFI's influencing strategy will be to use the results of its research to influence policies and practices through:

Publishing occasional papers and annual South Asia Microfinance Development Report (MDR) - designed to be used as an advocacy tool by microfinance organizations in the region.
Organising workshops and seminars on issues identified by national/sub-national networks in each of the South Asian countries.
Development of new services

SANMFI wishes to develop three new services. These are expected to lead to the strengthening of human resources in the microfinance sector.

1. Management Development Programme:
SANMFI is actively seeking to establish a highly selective four-week intensive Advanced Management Development Programme (AMDP) for senior mid-level managers of microfinance programmes from across the world.

The AMDP will be based in Bangladesh and the teaching faculty will be drawn from within and outside of South Asia - senior professionals from the microfinance and corporate sectors, and academics and professional trainers.

The distinctiveness of the AMDP will be in its:
Location in Bangladesh, enabling participants to practically experience the plethora of microfinance schemes on the ground - in both the rural and urban settings of Bangladesh.
Inclusive approach to microfinance development and management - drawing on the lessons learned from a wide variety of microfinance programmes and corporations in different locations around the world.
2. Brokering exposure visits:
SANMFI plans to create opportunities for organizations and people within and out of South Asia to make exposure visits to microfinance programmes within the region.
3. Brokering employment:
SANMFI plans to establish a service that serves as an employment broker between individuals within and outside of South Asia and microfinance organizations in the region.
Contact Person: Feisal Hussain

House 51, Road 12A
Dhanmondi R/A
Dhaka - 1209
Bangladesh


Tel: (880-2) 823-640, 823-637
Fax: (880-2) 823631
E-mail: sanmfi@bangla.net
Homepage: www.focus-asia/home/sanmfi

SANMFI was registered in June 1997 as a Trust based in Dhaka, Bangladesh.
---
Hari Srinivas - hsrinivas@gdrc.org


Return to the Networks and Networking Page

Return to the Virtual Library on Microcredit