Three components of Environmental Planning
---
Environmental planning seeks to improve and protect environmental quality for urban residents - both through controlling the generation of pollution and through segregating activities that are environmentally incompatible [Miller and Groot, 1997:3]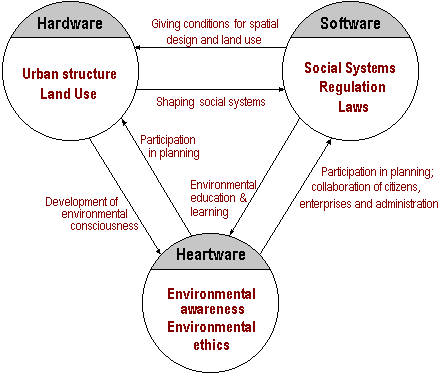 Harashina, 1996: 14
---
Effective environmental planning requires the effective interaction and overlay between three components - hardware, software and heartware.
Hardware consists of the physical fabric of a city - infrastructure, buildings, railway, roads, ports etc.
Software consists of sets of rules, and regulations, laws and legislation, ordinances, including habits, ethics, and traditionally established codes of conduct.
Heartware is an individual's emotional mechanism, behaviour and conduct, which determines his or her needs, wants and wishes. It also determines the process by which the individual's interaction with the surrounding environment takes place.
---
References:
Harashina, Sachihiko (1996), "Environmental Planning on Urban Level". Discussion Paper 96-6. Tokyo: Dept. of Social Engineering, Tokyo Institute of Technology.

Miller, Donald and Gert de Roo (1997), Urban Environmental Planning. Avebury Publishers.
---
Hari Srinivas