Why ISO? Benefits for Cities
.
The ISO 1400 series is relatively new, with many companies and business attempting to obtain ISO certification for themselves. Cities (local governments, municipalities, development boards, metropolitan authorities etc.) are yet to take advantage of the benefits that ISO certification entails them.

Quite clearly, there are several internal and external benefits for city governments if they seek ISO certification. While internal benefits ensure wider and deeper participation on the part of a city government's employees, it is the external benefits that form the key justification for a city government seeking to obtain ISO certification.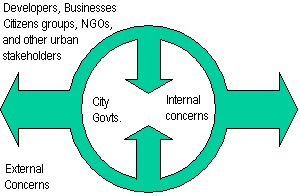 Internal Benefits:

By putting in place an environmental management system (EMS) that lies at the core of ISO 14001 certification, cities can effect a substantial saving of everyday resources that they use for their operations.
Cities can also cut costs on several fronts due to the review process that identifies overuse or wasteful utilization.
By having a broad EMS in place, covering all aspects of a city government's day-to-day operations and activities, it also improves staff committment and morale, highlighting their contribution to 'saving the earth'.
The processes involved in obtaining ISO certification envisages a complete review of existing activities and understanding their impact on the environment. It aims at removing negative impacts and strengthening positive impacts, leading to improved efficiency in operation and better integration in day-to-day activities

External Benefits:


With growing prioritization of the global and local environment, ISO 14001 acquisition demonstrates a city's 'green face' to its residents and also helps in emphasizing the need for greater environmental action on the part of urban stakeholders at the local level.
A city's acquisition of ISO certification helps in serving as a model for other city and regional governments to emulate and replicate.
A city government that has obtained ISO certification can, from a position of strength, promote replication of acquiring ISO Certification from other stakeholders in the city, particularly the private sector where a properly and strategically implemented EMS can have far-reaching and long-term impacts
It also emphasizes the concept, 'environmental-action-starts-at-home', where local actions at the grassroots have global implications.
Cities have traditionally attempted to implement city-wide programmes and initiatives for management of the local environment. The key difference with acquisition of ISO 14001 is that city governments have to take action themselves inhouse and from within - demonstrating environmental sensitivity to the residents and all sectors of the city, and promoting replication.