G D R C
Special Feature

Starting an NGO
Hari Srinivas
Management Tools Series E-052. June 2015.
S

tarting a non-governmental organization or a non-profit organization (NGO/NPO) can be a lengthy, time consuming process. However, the difficulties of the process can be minimized by following a consistent series of steps and seeking advice when needed. NGO/NPOs provide much needed services to their respective communities, and thorough planning during the start-up process is crucial to developing an effective and professional organization that is able to meet the myriad challenges faced by the world today.


When you are starting off ...

... so continue reading below.



| | |
| --- | --- |
| This GDRC Special feature outlines some of the key features that need to be kept in mind when seting up and operationalizing an NGO. | |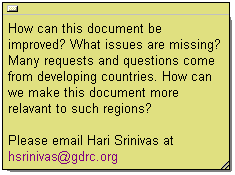 This document draws from several sources and references. It has also benefited from comments and suggestions by internet users and others, and is primarily based on the work of GDRC, itself an NGO, and the interaction it has had with other NGOs via its programme, the "NGO Café".

Please note that the information provided in this feature is provided in good faith, to assist the user. However, GDRC does not warrant or assume any legal liability or responsibility for the accuracy, completeness, or usefulness of any information, apparatus, product, or process disclosed in these pages.

Further suggestions to improve this resource are welcome - please send them to hsrinivas@gdrc.org


Return to the NGO Page
---
Comments and suggestions:
Hari Srinivas - hsrinivas@gdrc.org
The NGO
Management
Toolbox
---
This section is part of the NGO Cafe's Management Toolbox, which contains the following tools: